We made it! Thank you for your participation!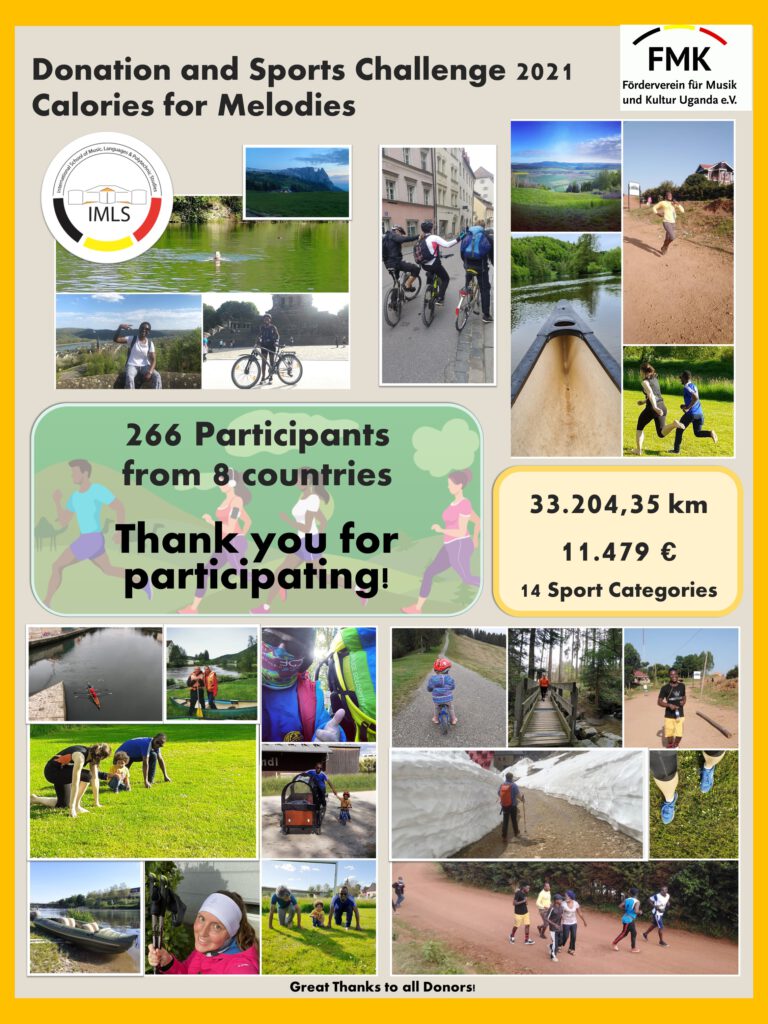 We will start our 2. Donation and Sports Challenge on 8. May 2021 – 6. June 2021 (EXTENDED UNTIL 19. JUNE)! We want to run, drive, swim 30.490 km around the African continent and at the same time fundraise 30.490 € as a donation for the Ugandan IMLS-School!
After last year's successful donation and sports challenge, it is time once again to go out into the fresh air and do some exercise for a good cause!
Begin: 08. May 2021
End: 19. June 2021
Distance: 30.490 km
Goal: 30,490 €
Why?
The construction of the lower basement floor of International School of Music, Languages and Polytechnic Studies (IMLS) in Uganda is now completed, occupied and in operation. What is still missing are paved outdoor facilities, pathways and slope protection as well as green areas. No money no fun! Because of the Corona pandemic, it was not only the school operations of the IMLS that had to be suspended, but also our annual fundraising activities were tampered. We, Members and Friends of FMK Uganda e.V. together with IMLS would like to use this tremendous and unique opportunity to collect the much-needed funds. 
Our goal is to raise 30,490 €. The IMLS compound must be fixed and greened. Green is, as we know, the color of hope. Therefore, we want to start together with you at the Cape of Good Hope and symbolically go around the African continent – a 30,490 kilometers long opportunity to get rid of calories and to support IMLS at the same time, from 08. May to 19. June 2021!
How can you participate?
Everyone can join in and collect kilometers – on foot, on the bike or in the water!
If you would like to participate, register with your name/pseudonym and email address on www.spendensportchallenge-fmk-uganda.de.
An optional "registration fee" (donation) can be made via this Betterplace-Donationplatform.
Of course, it is also possible to make a donation without taking part in the sport activities. Please ask your friends and relatives whether they would like to support you as a sponsor for your distances and donate, for example, 1 € per kilometer.
After each run or bike ride etc., you can enter the kilometers covered via our online-platform to constantly display the ranking as well as the total kilometers covered. (Please do not "collect" kilometers and enter them all on the last day but enter them regularly.)
You may need to know some German vocabulary for signing up or donating. Here are the most important words:
Gehen/Wandern = walk/hike
Walken = walking
Joggen = jogging
Schwimmen = swimming
Fahrrad fahren = biking
Rudern = rowing
Paddeln = paddling
Drachentrike = kite trike
Surfen = surfing
Sonstiges = other
Jetzt spenden = Donate now

Each participant will be issued a certificate of participation, that can be individually downloaded at the end of the event. Non-cash prizes will also be raffled off among all participants.
An African proverb says: If you want to go fast, go alone. If you want to go far, go with others.
Together we shall achieve our goal!
Take part! All who participate, do improve their fitness-condition and thus supporting IMLS and its students in Uganda.
SEND US YOUR PICTURE!
Send us your sports photos to info@fmk-uganda.de. The photos are used for a final collage at the end of the challenge and are placed on Facebook.
Registration/Participation
By participating, each participant shall recognize these terms and conditions of participation in the raffle/competition organised by FMK e.V. Uganda.
For participating, registration of particulars incl. email address on https://spendensportchallenge-fmk-uganda.de is mandatory.
Other conditions of participation
Registration is only possible via Internet. By participating in the competition, the contestants agree to the rules of the competition. Participation is only possible within the scheduled time-period of the competition.
Winner determination & participation period
The competition is scheduled to take place from 08.05.2021 to 05.06.2021. The winners will be determined by random drawing.
Prizes
A total of 25 non-cash prizes will be awarded. At the end of the period, a random drawing of all prizes in kind will take place. The winners will be informed within two weeks after the draw.
Notification of the winners
The winners will be notified by e-mail and/or phone.
Deadline for feedback and loss of entitlement
If the winner does not claim his /her prize within 7 days of notification, the he/she will not be sent any reminder (s) and loses any claim for profit.
Transfer of profits
The prizes will either be handed over in person or delivered by Email or mailed to the postal address.
Termination options
FMK Uganda e.V. reserves the right to cancel or terminate the competition at any time without prior notice. This applies in particular if the competition cannot take place as planned for any reason, such as errors in the software and/or hardware and/or for other technical and/or legal reasons that influence the management, security, integrity, and/or regular and proper execution of the competition. In such cases, FMK Uganda e.V. also has the right to modify the competition at its discretion.
Data Privacy
By participating in the competition, the participant consents to the saving and use of personal data incl. e-mail address, and, in case of winning, also the postal address. FMK Uganda e.V. saves and uses this personal data for the purposes of execution of the competition as well as for the notification of the participants in case of a win. The data will not be passed on to third parties. The participant can revoke his/her consent at any time by sending a message to FMK Uganda e.V. The data will then be deleted.
Legal redress and liability
Legal action is ruled out. There is no legally enforceable right to the prizes. FMK Uganda e.V. is not liable for the loss, delay, delay, modification, manipulation and/or misdirection of e-mails and/or data during the data entry, collection, transmission and/or storage, which may cause it to be data networks, in particular the Internet or the WWW, in third-party telephone lines and/or ´have other hardware and/or software of the participants and/or third parties; this applies in particular to  incorrect, missing, interrupted, deleted or defective data as well.
Furthermore, FMK Uganda e.V. is only liable for gross negligence or intentional action by its legal representatives or employees. FMK Uganda e.V. is also not liable for damages, towards the winner or family members of the winner in connection with the prize. The above exclusion of liability does not apply to the extent that liability is mandatory, e.g. in cases of intent, gross negligence, injury to life, body health or due to the breach of essential contractual obligations or due to infringement of cardinal obligations.
Severability clause
If individual provisions should be or become invalid, this shall not affect the validity of the remaining terms and conditions of participation. In such a case, organizers and participants are obliged to participate in the establishment of provisions that achieve a result as economically and as close as possible to the invalid provision.