CALORIES INSTEAD OF MELODIES 2020 – Donation and sports challenge in favour of the IMLS
Dear participant of the Donation and Sport Challenge "Calories instead of Melodies" organized by FMK Uganda e.V. in Germany,
we are so proud and enthusiastic about all the kilometers collected by 242 participants in 11 countries. Togethe, we even managed to reach the goal twice in covering the distance beween Regensburg/Germany and Masaka/Uganda within four weeks! You even sent us more kilometers than expected. Therefore  we enjoyed an extra tour around Europe at the end!
THANK YOU VERY MUCH FOR ALL THE SPORTY AND FINANCIAL SUPPORT!
Together we collected a total of 21.585 km!
2.849,22km  out of them where collected by running, 3.339,49km by walking, 15.139,93km by driving the bicycle 102,87km by swimming, 105,4km by canoeing/paddling/surfing, and even 38km by paragliding/skycruising!
At the donation part of the challenge a total sum of 8.390€ was donated (6.370€ through the betterplace plattform)! The money will be used to complete the lower basement floor of a new big schoolbuilding for our partner project namely;  the International School of Music, Languages and Polytechnic Studies (IMLS) in Uganda.
Countries from where we received kilometers: Uganda, South Africa, Bahrain, Canada, Great Britain, Sweden, Greece, Belgium, Germany, Austria, Switzerland
All participants who have sent us kilometers within the last four weeks will receive a certificate of participation, showing the total kilometers which the participant shared with us for the challenge. The certificate will be sent via email during the next week. Moreover, some non-cash prizes like sport/health/musical equipment will be raffled out. In case you win a prize we will contact you seperately within the upcoming week.
Once again we thank you very much for your great performance and commitment towards this donation and sport challenge! We hope you liked it and besides training your own fitness you also supported people in Uganda to gain musical and polytechnic skills!
And here comes the final ranking of the top three participants according to the different sport disciplines:
Walking/Hiking:
Harry G. – 200 Km
Reiseleiter Thorsten Hansen – 166,5 Km
Remo Hofmann – 163,5 Km
Running:
Nicola – 225,33 Km
Claudia – 180,98 Km
Miramra – 159,6 Km
Driving the Bicycle:
Rosmarie Brock – 1108,9 Km
Michael Danner – 867 Km
Nadjs – 542,12 Km
Swimming:
Triadafillos – 25,9 Km
Home is where the pool is – 20,2 Km
Sophia – 12,2 Km
Rowing:
Katharina Sollfrank – 25,49 Km
Anna-Maria Deml – 18 Km
Sandra G. – 13 Km
 Canoeing:
Chris H. – 30 Km
Surfing:
Walter – 25 Km
Skycruising:
Mark P. – 30 Km
Paragliding:
Mark P. – 8 Km
Kind regards from the challenge team and maybe till another time in 2021?
Sophia Schaaf (Chairlady) and the rest of the Challenge-Team
We made it! Thank you so much!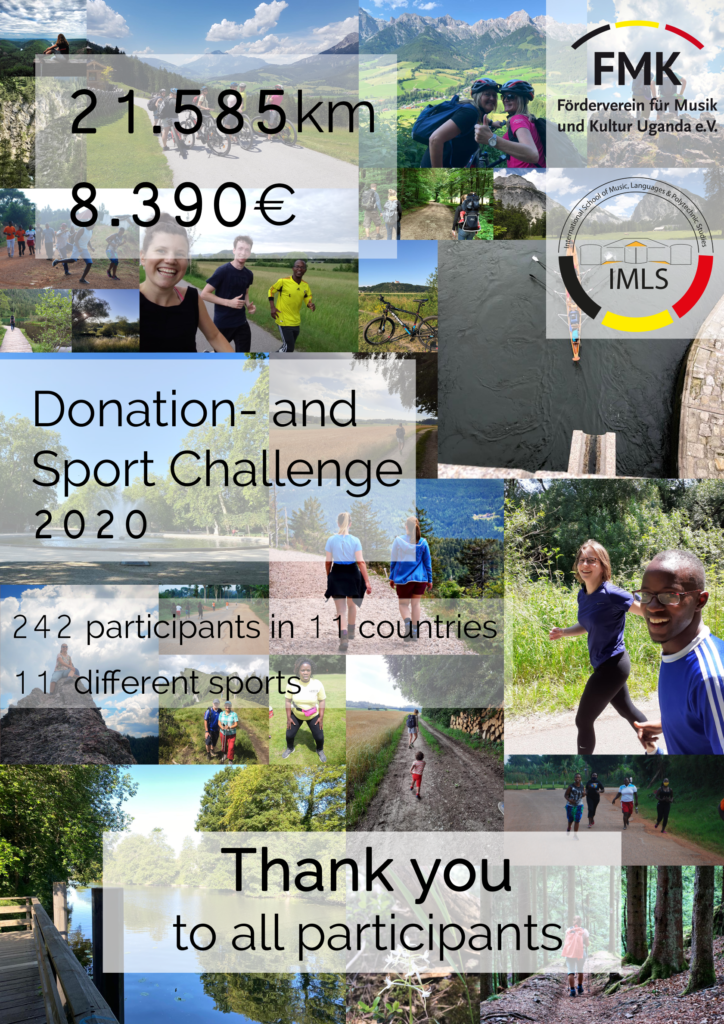 Information about the challenge – registration is no longer possible
On 13 June 2020, together with our partner FMK Uganda e.V. in Germany, we are starting with the big donation and sports challenge event to cover 8,381 kilometres by 11 July 2020!
Anyone can take part and collect kilometres – on foot, on the bike or in the water! You can register with your name or a pseudonym in the registration form below  and make a voluntary donation as participation fee on the Betterplace plattform.
After each time of running or biking etc., you should post the kilometres travelled on our facebook event, in instagram or sent them informally via mail to info@fmk-uganda.de. We will record the kilometres and a weekly ranking of the three most diligent participants per sport will be published and at the end a final evaluation will be provided. A certificate of participation will be issued upon request and several non-cash prizes will also be raffled off among the participants.
Why?
8,381 kilometres is the distance between Regensburg and Masaka, Uganda. We, IMLS together with FMK Uganda e.V., would like to overcome this distance symbolically together.
Due to the Corona pandemic, the planned return visit of Ugandan teachers of IMLS to further the partnership project, initiated in 2018, at the Sing- und Music School of the city of Regensburg as well as the Himbisa Mukama 2020 project had to be cancelled. As a consequence, for the time being, we will not be hearing German and African melodies from the Himbisa Mukama Choir and the Ugandan teachers will not be receiving further musical training in Germany.
Instead, we want to support our school, the International School of Music, Languages and Studio Production (IMLS) in Uganda by "burning calories" from 13.06. to 11.07.2020 at the abovementioned sport event, that entails accumulating kilometres, the teachers of the IMLS were not able to hold because of Corona.
For more information, please visit www.fmk-uganda.de.
All right, let's go! Combine your own training objectives with a good cause – each one for himself / herself and yet all with each other- for a common challenge that will both help children in Uganda as well as further your own fitness!
Thank you very much for your participation!

Terms & Conditions of Participation
Registration/Participation
By participating, each participant shall recognize these terms and conditions of participation in the raffle/competition organised by FMK e.V. Uganda.
For participating, registration of particulars incl. email address on www.imls-uganda.org is mandatory.


Other conditions of participation
Registration is only possible via Internet. By participating in the competition, the contestants agree to the rules of the competition. Participation is only possible within the scheduled time-period of the competition.


Winner determination & participation period
The competition is scheduled to take place from 13.06.2020 to 11.07.2020. The winners will be determined by random drawing.


Prizes
A total of 25 non-cash prizes will be awarded. At the end of the period, a random drawing of all prizes in kind will take place. The winners will be informed within two weeks after the draw.


Notification of the winners
The winners will be notified by e-mail and/or phone.


Deadline for feedback and loss of entitlement
If the winner does not claim his /her prize within 7 days of notification, the he/she will not be sent any reminder (s) and loses any claim for profit.


Transfer of profits
The prizes will either be handed over in person or delivered by Email or mailed to the postal address.


Termination options
FMK Uganda e.V. reserves the right to cancel or terminate the competition at any time without prior notice. This applies in particular if the competition cannot take place as planned for any reason, such as errors in the software and/or hardware and/or for other technical and/or legal reasons that influence the management, security, integrity, and/or regular and proper execution of the competition. In such cases, FMK Uganda e.V. also has the right to modify the competition at its discretion.


Data Privacy
By participating in the competition, the participant consents to the saving and use of personal data incl. e-mail address, and, in case of winning, also the postal address. FMK Uganda e.V. saves and uses this personal data for the purposes of execution of the competition as well as for the notification of the participants in case of a win. The data will not be passed on to third parties. The participant can revoke his/her consent at any time by sending a message to FMK Uganda e.V. The data will then be deleted.


Legal redress and liability
Legal action is ruled out. There is no legally enforceable right to the prizes. FMK Uganda e.V. is not liable for the loss, delay, delay, modification, manipulation and/or misdirection of e-mails and/or data during the data entry, collection, transmission and/or storage, which may cause it to be data networks, in particular the Internet or the WWW, in third-party telephone lines and/or ´have other hardware and/or software of the participants and/or third parties; this applies in particular to incorrect, missing, interrupted, deleted or defective data as well.

Furthermore, FMK Uganda e.V. is only liable for gross negligence or intentional action by its legal representatives or employees. FMK Uganda e.V. is also not liable for damages, towards the winner or family members of the winner in connection with the prize. The above exclusion of liability does not apply to the extent that liability is mandatory, e.g. in cases of intent, gross negligence, injury to life, body health or due to the breach of essential contractual obligations or due to infringement of cardinal obligations.


Severability clause
If individual provisions should be or become invalid, this shall not affect the validity of the remaining terms and conditions of participation. In such a case, organizers and participants are obliged to participate in the establishment of provisions that achieve a result as economically and as close as possible to the invalid provision.